Lisa Niemi, Patrick Swayze's wife, invites fans to donate for a Pancreas Cancer Center in Stanford University
Tratto da: Official Patrick Swayze International Fun Club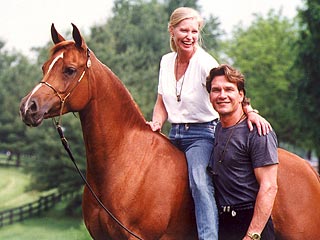 Sunday 20th September 2009
Patrick's wife Lisa has contacted us with news of a Research Fund in Patrick's name. Here is Lisa's message:
"Stanford University is coalescing existing research activities on pancreas cancer to form a Pancreas Cancer Center. This center will expedite application of emerging technologies and the development of molecular targeted therapies all focused on pancreas cancer. Of course, our wonderful Dr. George Fisher is involved with all this and setting up this fund in Patrick's name.
Checks should be made out to:
"Patrick Swayze Pancreas Cancer Research Fund"
& sent to:
Stanford Cancer Center
875 Blake Wilbur Dr.
Palo Alto CA 94304."
Sincere thanks to Lisa for sending us this news and we back the Research Fund with all our support. Please promote the Research Fund if you can.
Update 23rd September 2009 - please visit our news page for how to donate online on the Stanford website.

I post più popolari
È stata intitolata a Giovanni Raccuia la nuova sezione dell'Anpi di Raccuja, nel corso del congresso cittadino che si è svolto nel centro nebroideo. Raccuia aveva solo 21 anni l'8 settembre del 1943, ...
Argomenti principali